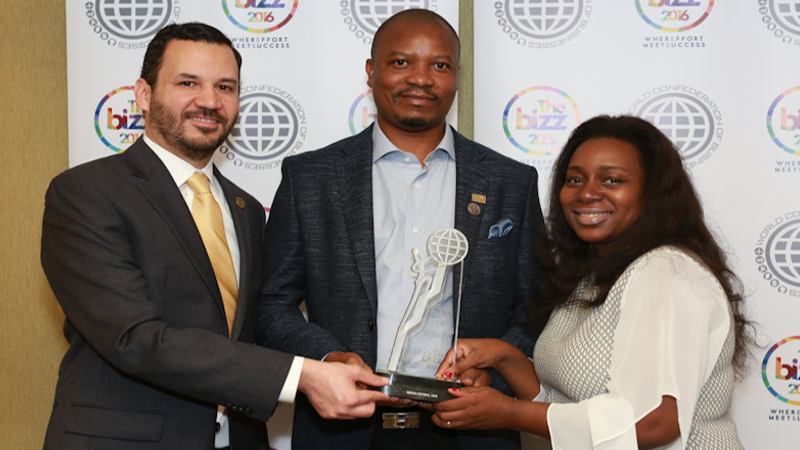 WORLDCOB awarded a Mozambican renowned company
Tatos Botao, a company located in Mozambique won THE BIZZ 2017. The private ceremony was held on 06 may at WORLDCOB main office in Houston, Texas, Estados Unidos
The general director, Mr. Felizberto Botao received recognition on behalf of the company which was awarded by WORLDCOB Vice President, Mr. Michael Bellido.
The organization won the Peak of success trophy in the Entrepreneurial category awarded to the winning organizations of THE BIZZ for the second time and for those which has mantained in the head of business
THE BIZZ is the most important business prize in the world. Its objective is to recognize and promote the development of companies worldwide. This is given to the most important companies of its country leaders and leaders in its sector, as it is the case of the Tatos Botao
In order to obtain this important recognition, the Evaluation Commitee qualifies the applicant companies through the "Business Excellence Questionnaire", which evaluates: Business Leadership, Management System, Quality of Products and/or services, Business Creativity and Innovation, Corporate Social Responsibility, Achievements and Awards.
It is important to emphasize that this award is given every year in 3 gala ceremonies. However, there is the alternative of receiving the prize in a private ceremony, like Tatos Botao. In that case, the company visit the facilities of WORLDCOB in Houston, Texas, the United States, or the company can receive the visit of a representative in its facilities
Tatos Botao is again congratulated for its well-deserved recognition.