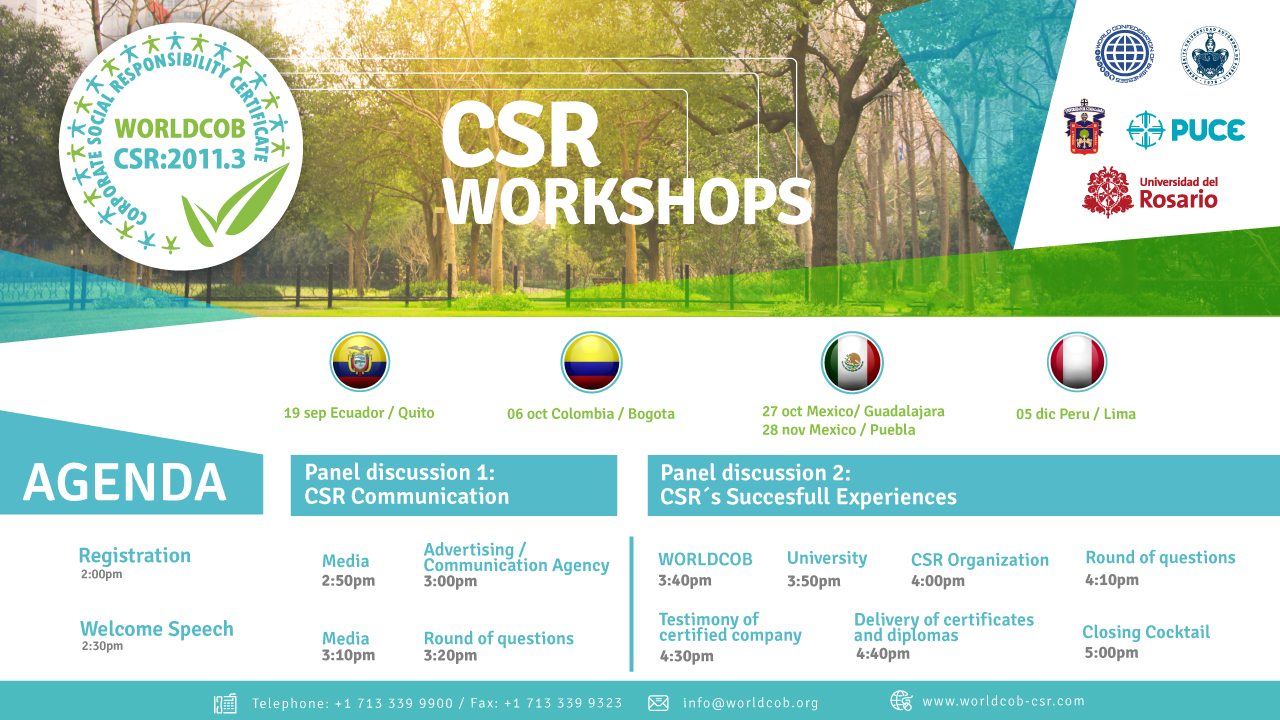 Together with the most prestigious universities, WORLDCOB promotes CSR around the world
The World Confederation of Businesses (WORLDCOB), true to its commitment regarding Corporate Social Responsibility (CSR) is organizing the CSR Meeting for the sixth consecutive year to promote corporate policies that drive the wellbeing of various Socially Responsible groups in society.
For the second consecutive year, this important event will be co-organized by the most important universities in the world who provide key ideas to develop the CSR Meetings and provide the venues to develop the conferences.
The meeting headquarters are: la Pontificia Universidad Católica de Ecuador (Pontifical Catholic University – Quito Ecuador) on September 19th of the present year; la Universidad del Rosario (Del Rosario University – Colombia) on October 6th; la Universidad de Guadalajara (University of Guadalajara – México) on October 27th; la Universidad San Ignacio de Loyola (St. Ignatius of Loyola University USIL – Lima Peru) and the American University in the Emirates, (United Arab Emirates Dubai) on November 14th; Benemerita Universidad Autónoma de Puebla (México-Puebla) on November 28th.
The event will address fields of interest so that Companies can implement CSR policies in their businesses and at the same time remain profitable.
The Companies who are interested in applying for CSR in their organization will be able to receive guidance to take these initiatives and turn them into practical steps and learn from the experience of other organizations that have executed these policies successfully.
Also, during the Meeting, WORLDCOB-CSR certifications will be delivered to Companies who have successfully completed the certification process based on the updated Standards of WORLDCOB-CSR:2011.3.
It is important to note this is a free event which requires pre-registration. The invitation is open to those interested parties who desire to strengthen or acquire knowledge on Social Responsibility in their company.